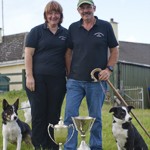 Welcome to Lisbrook Boarding Kennels, a family run kennel. We will provides your pet with Top Quality affordable boarding whilst you are on holidays. You can relax and enjoy yourself safe in the knowledge that your pets are being cared for in a safe and secure environment.
The kennels were set up in 2006 and are run by husband and wife team Barra and Mary O'Brien. The kennels are located 7 miles from Athlone, 15miles from Roscommon town and 13 miles from Ballinasloe. Please visit our Contact page view our location on Google Maps.
Barra has been involved with dogs all his life and has been a participant in sheep dog trialing since 1990. He has represented Ireland in the World Trials in 2008 and has won several open trials. Barra's love for dogs prompted him to set up Lisbrock Boarding Kennels.
Barra's wife Mary and their sons and daughter are very much hands on in the kennels. There is always a great welcome in store for your pet, as well as genuine love and care for their wellbeing.
Background music is played in the kennels, creating a more homely and relaxing atmosphere for your pet.
We also carry out microchipping of your dog or cat which is a simple and effective way to make sure that your pet can be easily identified should it stray or get lost.
As a member of Irish Dog Boarding Kennel and Cattery Association (IBKCA) we maintain our kennals to a very high standard and we have many satisfied customer who travel a distance to have us care for their pets.
You can visit our Facebook page here or see our Facebook comments here. If you have previously used our Service we would love to received your comments.