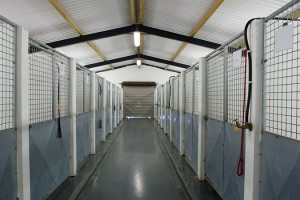 Our indoor kennels are specially designed with your dog's comfort and security in mind. They consist of 22 spacious individual units of 12ft x 5ft within a single building which was specifically built for the our kennels. Photos on the right shown the layout and detail of our kennels.
The kennels are designed so that dogs are totally seperated from other dogs preventing contact with dominant or aggressive dogs. This allows each dog to settle, feel safe and relaxed in its individual unit.
The kennels are bright and airy. All dogs have their own individual units with a comfort mats. Individual Infrared heating is available in each unit if required. Family dogs may share if requested. Our secure spacious outdoor runs allow for safe fun play periods throughout the day. All dogs are walked individually twice daily in our exercise field. These walks develop a bond between your dog and our staff members thereby ensuring that you pets stay is a relaxed and happy time.
Good food, a comfortable bed, exercise, lots of attention and affection helps ensure a stress free holiday for your dog and for you.
All dogs must have an up to date vaccination cert signed by a veterinary surgeon presented on arrival, there will be no exceptions. Dogs must be vaccinated against Distemper,Hardpad,parvo virus and Infectious Bronchitis (Kennel Cough).
Creche Service
We offer a daily creche service for dogs. This service is provided for the dog who spends a lot of time alone while their owners are out.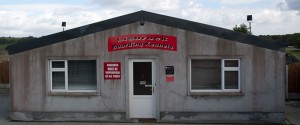 We reccomend you bring your pets favourite toy or blanket or even a piece of your own clothing to help ease the transition.